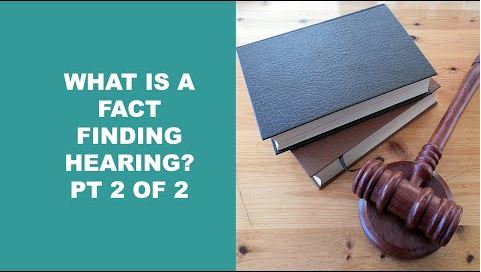 12 Feb

What happens at a Fact Finding hearing?

In cases where allegations have been made, and those allegations will impact on the safety of the child, or in some cases the parents, the court can find itself in a situation that little can be done without knowing whether the allegations are true or not. In those cases, a Fact Finding hearing will be set in place.

CAFCASS, or sometimes Social Services are unable to make recommendations about contact arrangements until the truth is known.

The court will follow a process to gather as much information is relevant to the allegations and then examine that information in a hearing. All information available for the hearing will be given to both sides as well as the Judge. Police disclosure is often obtained as well as medical reports and any other information which is relevant to the case.

The alleger will then produce a schedule of allegations, called a Scott Schedule. This is backed up with a full statement describing the allegations. The schedule is passed to the other side who may add some of their own and respond to the original allegations as either accepted, denied or partially accepted, and a full statement is provided to back up their admission/denial. Usually the allegations are limited in number, commonly 6 for the alleger and 3 for the alleged.

The court may then have a short hearing to ensure that all of the information required has been obtained, and to look at witnesses if any that are required and how long they may give evidence and what will they be able to give evidence about to benefit the court.

Then the fact Finding hearing will take place. Depending on the case, they may last from half a day to the longest I have done, six days.

The process is very similar to a Final Hearing, in that the Applicant is sworn in, questioned by the other side and then the Judge, and then any witnesses for the Applicant are sworn in and questioned. Then the Respondent follows suit.

Both sides then have an opportunity to give a submission to the court where they give a 'speech' outlining the case from their perspective and point out everything in their favour and minimize anything that went against them. They then ask the Judge to make an order that suits them.

The Judge will then take time to consider the case and then give Judgment. Each allegation must have a true or false result. Based on any allegations found to be true, the Judge will then make directions for CAFCASS to do a report, if one is needed, and make an order in relation to progressing the case to look at child contact arrangements.

The same judge, if possible, should be retained in the case to deal with future hearings as they have an in depth view of the case.

Preparing for a Fact Finding Hearing properly as a Litigant in Person can be a nightmare and be very difficult to get right. Many people are unaware of how the court will make a decision on the allegations made and do not fully understand how cross examination works so that when they have an opportunity to question the other side they can hit targets rather than spray everything and anything in their general direction hoping that something will stick.

If you are facing a Fact Finding Hearing and need some advice, please contact Simon Walland. You might like to attend his training courses to learn how to manage one of these hearings.