Family Law Training Academy
 Lectures and Courses
I know what you're going through
Things might seem a little unfair at the moment. You're having a tough time and you're understandably worried about the court process. Maybe you're weighing up whether to represent yourself in court or pay £1000's to a solicitor to act for you. Perhaps you're worried you'll mess things up if you do it yourself. 
I've been where you are now
I know how it feels to have your life turned upside down and feel powerless to change anything. But I soon realised that wasn't actually the case and I did have the ability to take action to influence my case – I just needed to put in a bit of effort and commit to learning the rules and processes involved in court hearings. You can read more about my story here. I learnt so much from representing myself in court, and it inspired me to help others in the same situation.
You can take back control
You can represent yourself in court successfully without it jeopardising your case, saving you £1000's in solicitor fees in the process. The thought of standing up in court might fill you with anxiety, but with this training under your belt you can be confident that you'll present yourself in the best light. You'll also give yourself the best chance of coming out of the courtroom with a satisfactory arrangement in place. 
It's not as difficult as you might think
The lectures and courses here will walk you through the whole process of self-representing in court step by step, and I'll be on hand by telephone to answer any questions and support you all the way. You can watch live and then study online at your own pace with lifetime access to the course. The training is simple and easy to follow. Course attendees will also get access to a private Facebook group just for students to discuss any aspects of the course. 
I know how you're feeling right now, but I also know that YOU CAN DO THIS. Imagine how much more confident you'll feel walking into that courtroom with all this knowledge behind you. 
What is the difference between a lecture and a course?
The lectures are completely FREE and will give you basic information on particular topics related to Family Court hearings. They are suitable for you if you're still considering whether to self-represent or if you want a taster of what is included in the courses.
The courses go into the topics in a lot more depth, and are suitable for you if you've decided to go ahead with representing yourself and want to make sure you're fully prepared. You'll learn everything you need to know about self-representing in court. The courses are low in cost but high in value.
This comparison table listing the differences between a lecture and a course on
Position Statements and Section 7 Reports might help: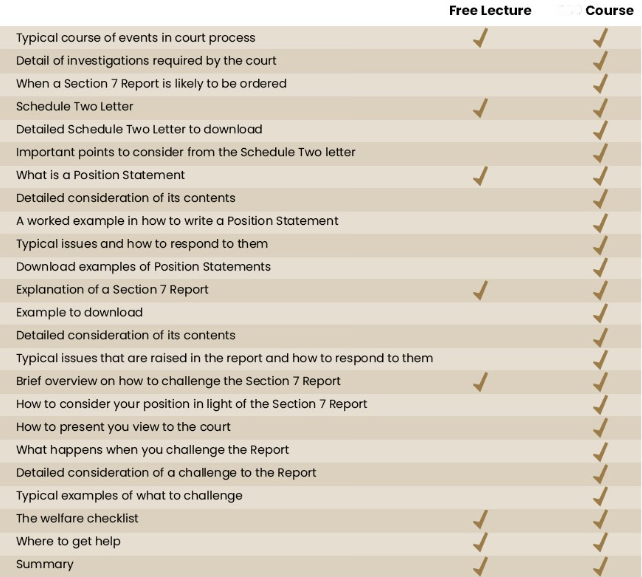 People I've helped take back control say:

"Great tutor and some fantastic material in his courses. Highly recommended."
"Brilliant!"

Lectures and Courses available:
And if you need a little more convincing…
Why not take a look at this quick preview of a typical lecture which will give you a taster of what you can expect from the other lectures and courses.
I'm sure after watching the preview you'll feel ready to dive into the training and feel confident that you're as prepared as you can be for representing yourself in court.
And why not sign up to the mailing list to be the first to hear about new and upcoming courses and lectures?